About Lemon OG Strain
Lemon OG, also known as Presidential Kush or Lemon OG Kush, is a slightly Indica (60% Indica and 40% Sativa) dominant hybrid. It is a cross between OG #18 and Lemon Skunk. The Lemon OG strain is potent, with an average THC of approximately 20%. However, its THC level can range from 17% to 24%.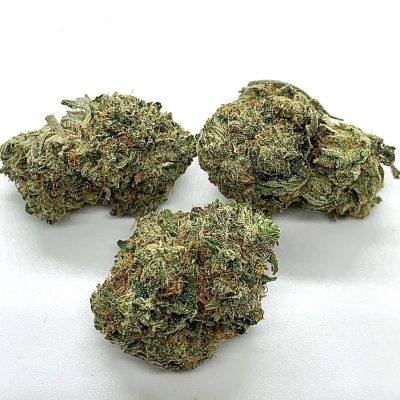 Type of High 
The intoxicating high of this strain becomes noticeable within minutes. It only takes a handful of tokes to get the desired effect. Initially, you may feel euphoric and happy. Users say that any negative vibes that surround them dissipate once Lemon OG gets to work. Thus, there is also a chance that you will experience fits of giggles. As a result, you might find it useful before heading out for a sociable evening. 
Once the body high takes over, you will feel completely relaxed and at ease with yourself. Although Lemon OG doesn't cause couch-lock amongst experienced users, it is best to make plans to get home before the body buzz becomes too potent. However, if you overindulge or have a low THC tolerance, it is hard to fight off the heavy-limbed feeling. 
Aroma 
It is a cannabis strain with a remarkable scent. The potent citrus and lemon notes hit your olfactory system immediately after opening the bag. The large quantity of terpenes is palpable as the sweet citrus combines beautifully with hints of skunk and kush. 
Flavor 
This strain has a creaminess to the lemon taste that makes it a sensational smoke. It also has herbal and spicy notes that titillate the tongue. The sweet lemon dominates the palate upon the exhale. 
Appearance 
Lemon OG may appear to be a paler green than other strains and it may even look yellow. Buds are sticky and have white or orange trichomes, the plant's appendages. 
Medical Benefits 
This strain is powerful enough to act as an analgesic. Therefore, some users try it for conditions where chronic pain is a major symptom. Such medical issues include arthritis and muscle spasms. Also, this strain can provide a case of munchies, it is worth considering if you have a low appetite. Finally, use this strain in the evening, and it could aid you to get to sleep.