About Blue Cheese Strain
Blue Cheese is a classic Indica-dominant hybrid that delivers a memorable taste, alongside a balanced high. A cross between parent plants UK Cheese (Hybrid) and Blueberry (Indica), the result was a hearty strain packed with THC and a traditional cheesy aroma. It has a roughly 80% Indica and 20% Sativa genetic profile. Unlike most traditional Indicas, though, the high from Blue Cheese weed will not hit you like a ton of bricks. Instead, it almost washes over the body, bringing overall comfort with an immense variety of therapeutic aids. Blue Cheese achieves its potency with an average THC composition of about 15% to 20%.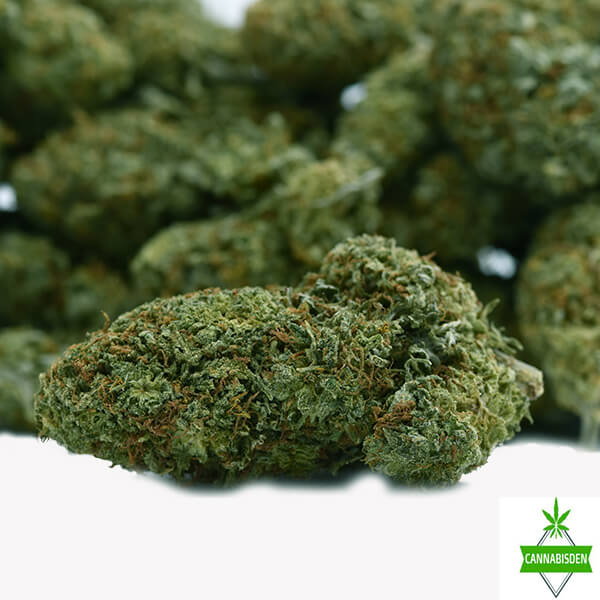 Appearance 
Cured buds of Blue Cheese strain are large and have a very dense bud structure. The tightly packed leaves are light to medium green and are threaded through with copper-colored hairs. This is a very resinous strain, and it correspondingly covers flowers in sticky white trichomes. When fresh, its buds are difficult to break up by hand and would typically need a grinder. 
Fragrance 
It is a dank strain which can almost consider it borderline stinky. We guarantee its savory cheesy whiff mixed with the aromatic sweetness of blueberry to stir up emotions in you. 
Flavor 
Just like its scent, Blue Cheese's flavors are something for the books. There is something very peculiar and interesting about mixing the pungent aroma of cheese with the delicate sweetness of blueberry. 
Effects 
The high of this strain is known to be a creeper, not instantaneous. Blue Cheese brings a relaxing body high, however, it does not cause the body to feel heavy like many other Indica strains do – so for many, it will not create a "couch-lock." Rather, this strain will bring about very mild idleness because of its refreshing effects. 
Besides the normal cottonmouth and dry eyes, this strain can cause minor dizziness or paranoia. 
Medical Benefits of Blue Cheese Strain 
This strain can treat anxiety disorders, proving to be quite successful in managing the symptoms of PTSD and bipolar disorder. Also, ADHD and ADD may also be treated with this invigorating and healing strain. Thus, most patients that use Blue Cheese for pain prefer to consume a dose that is larger than average, to maximize the healing benefits of its effects. Likewise, it is a great option for treating anxiety, depression, and even some symptoms of insomnia.