About Girl Scout Cookies Strain
The Girl Scout Cookies strain is classified as an Indica-dominant hybrid, with 60% Indica and 40% Sativa genetics. Winning multiple Cannabis Cup awards for its alien-like quality, GSC has been a stoner-favorite for decades. It attracts its consumers because of its aromatic, entrancing, and earthy aroma.
Its lineage hails from the mega-popular strains Durban Poison (Sativa) and OG Kush (Hybrid). By crossing two super popular strains, Cookie Family has elevated THC levels to an average of 25% to 28%. It boasts CBD and CBN contents to 1% as well.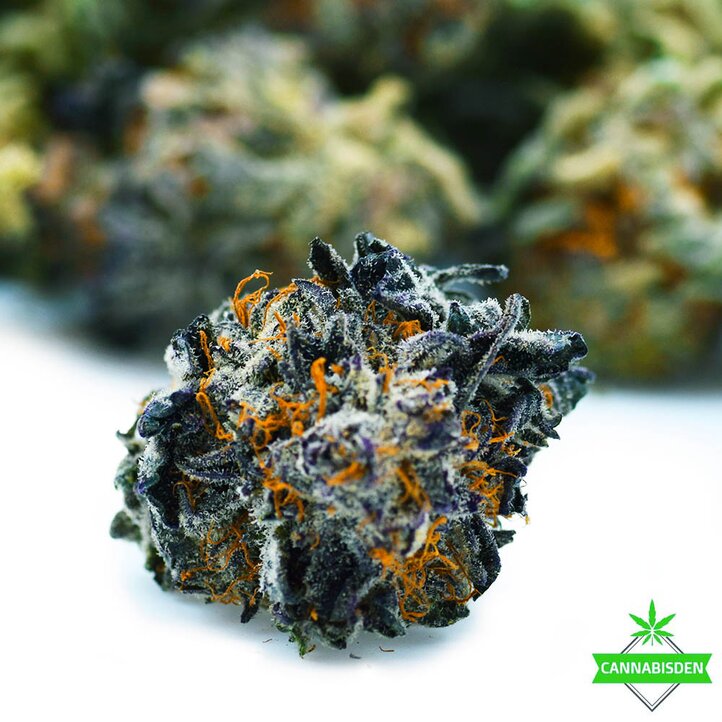 Appearance, Aroma, and Flavor 
Although some variations in appearance can occur, GSC is spectacularly beautiful with its distinctive and bright green twisting and turning calyxes, bundled up with deep purple leaves and neon orange hairs. It is a gorgeous strain to stare at, with its pleasant character always brightening up the world. GSC strain's most remarkable attributes are its peculiar skunky, yet slightly minty aroma. From its earthy undertones that ground you and bring you back down to the planet, to its uplifting and sweet flavor that shoots you high into the clouds, GSC is a strain of pure bliss and magic, the perfect balance for any class of cannabis consumed.
Effects 
The GSC high hurls you into a wave of euphoria and tingles that encapsulate your body with very little effort. This strain provides the best aspects of both Sativa and Indica, and the high is powerful, happy, and euphoric, but with couch-lock body effects and feelings of lethargy. Although you can expect some surges in energy during your high-time process, there will be courses of couch-lock and complete body melting. Because of this, GSC is not an ideal preference for a wake and bake, it is best to save for later in the day. 
The high from smoking this strain typically lasts for several hours, because of its potent THC content.
Girl Scout Cookies: Medical Benefits
Specifically, this is a great strain for treating chronic pain, inflammation, muscle tension, and cramps. Its highly sedative properties will have you feeling comfortable in no time. Additionally, many use this strain as a stress reliever. Thus, the tranquilizer-like feeling of this bud puts you in a place of complete relaxation, slaying stress and even getting you ready for a good night's sleep.