---
Didn't Find What you're Looking for?
Weed candy refers to a diverse array of candies that have been infused with cannabis. This attracts the attention of both recreational users seeking a pleasurable experience and medical users exploring potential therapeutic benefits. Whether for relaxation, social enjoyment, or potential medical use, weed candy has become a delightful sensation that captivates the cannabis market. So, indulge in this mouthwatering journey, where a harmonious blend of taste and cannabis awaits.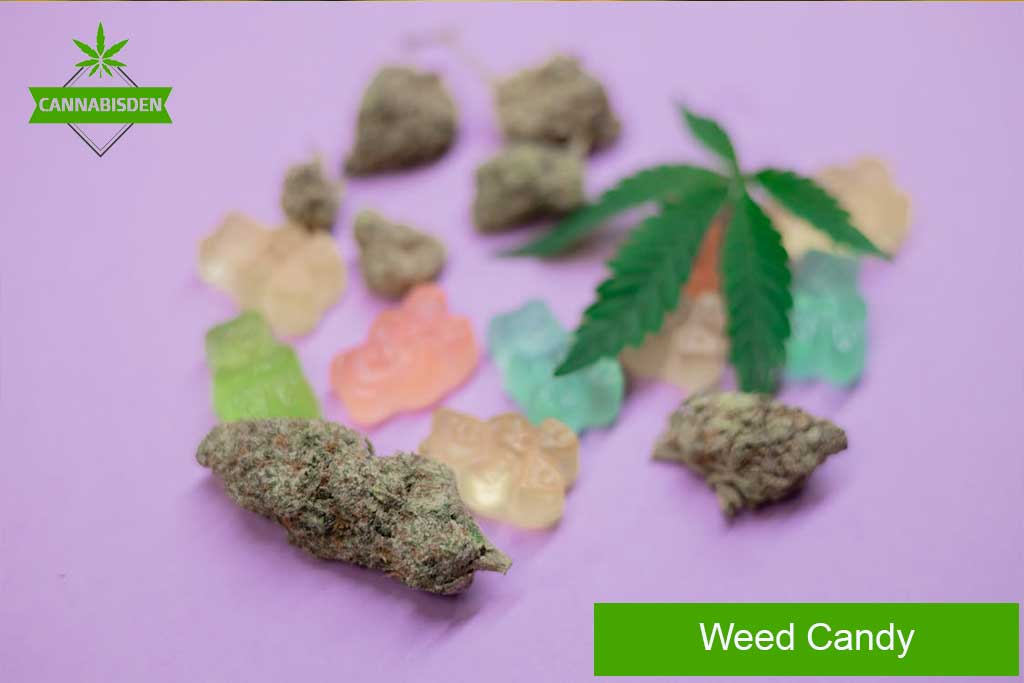 Best Weed Edible Candy Selection at Cannabis Den
At Cannabis Den, we offer a premium selection of weed candy that's sure to satisfy your cravings. Our commitment to quality, variety, and customer satisfaction makes us your go-to source for cannabis-infused sweets. Explore our wide range of products, from THC gummies to CBD infused treats, all designed to elevate your experience.
Discover the Finest Weed-Infused Confections
Our weed candy collection features an array of enticing options, carefully crafted to cater to your sweet tooth and cannabis cravings. Whether you're a fan of classics like chocolate or prefer fruit-inspired flavors like blue raspberry, watermelon, or strawberry, we've got something for everyone.
Elevate Your Experience with THC Gummies
Buy edible candy and Indulge in the perfect balance of sweetness and THC intensity with our premium THC gummies. From the delightful sour notes to the timeless appeal of gummy bears, our selection ensures a satisfying experience with every bite.
Our THC sour gummies range from 200mg to 1000mg THC, allowing you to customize your high.
Each candy is expertly infused with high-quality hemp for consistency and potency.
Enjoy the convenience of our 5 pack options, perfect for sampling different flavors.
Our weed edibles also serve medicinal purposes, offering discreet relief for various ailments.
Discreet Packaging and Hassle-Free Shipping
We understand that privacy is important, which is why we offer discreet packaging for all our shipments. Rest assured that your order will arrive discreetly, without any external indications of its contents. Plus, we provide free shipping for orders over $50, making it even more convenient to enjoy our cannabis infused candies.
Buy Weed Candy from our Assorted Weed Candy Selection
Our assortment includes a wide range of flavors, from berry to cherry, ensuring there's a treat to suit every palate. 
| Candy Flavor | THC Level | Price |
| --- | --- | --- |
| Blue Raspberry | 300mg THC | $19.99 |
| Watermelon | 500mg THC | $24.99 |
| Strawberry | 200mg THC | $14.99 |
| Cotton Candy | 500mg THC | $24.99 |
| Banana Cluster | 1000mg THC | $29.99 |
Unlock Exclusive Marijuana Edibles Offers
Join our community by creating an account and login to unlock exclusive offers, early access to new arrivals, and valuable insights into our range of delicious cannabis-infused and cookie products. At Cannabis Den, it's important to us that you have the best experience possible.
With Cannabis Den, you can customize your cannabis experience, starting low and gradually increasing your dosage. Our commitment to quality and customer satisfaction ensures that you'll always receive high-quality, best weed candy edibles.
Whether you're in BC or anywhere else, we offer a wide variety of options, including hard candies, lollipop, sourz, soft chews weed gummies, weed edible, and other candies infused and vaping products. 
The Effects and Benefits of Edibles Candy
Edible candy, a delightful and innovative form of cannabis consumption, has emerged as a favoured choice among cannabis enthusiasts. Let us explore the distinct effects and potential benefits of edible candy, appealing to recreational and medical cannabis users.
Gradual Onset and Prolonged Effects
Edible candy sets itself apart with a slower 
onset of effects
 than other methods like smoking. When ingested, the cannabinoids in the candy undergo digestion before entering the bloodstream, resulting in a gradual effect that may take longer to kick in. The gradual process leads to longer-lasting effects that provide users with an extended cannabis experience.
Accurate Dosage Control
Renowned edible candy manufacturers adhere to precise dosing standards, ensuring consistent cannabinoid content in each piece. This precise dosing gives users better control over their cannabis intake. An accurate dose reduces the risk of overconsumption and ensures a more predictable and enjoyable experience. This holds significance for medical cannabis users who depend on precise dosages to manage their symptoms effectively.
Medical Benefits
The cannabis candy we sell holds special value for medical users requiring accurate dosing and convenient symptom management. Its consistent dosing information and pleasant consumption experience provide medical patients with a reliable way to address their specific needs. This is beneficial for those seeking relief from various conditions without frequent dosing adjustments.
...
Popular Cannabis Candy Flavours and Varieties | Cannabis Den
Cannabis-infused candy has become a delightful treat for cannabis enthusiasts. We offer a flavourful and discreet way to enjoy the effects of cannabis. There is a selection of THC candy, CBD candy, or both cannabinoids sold in one packaging. At Cannabis Den, a treasure trove of delectable options awaits, each boasting unique flavours and effects to cater to various preferences.
Aura INDICA presents a cannabis candy tailored to indica enthusiasts. Enriched with the soothing and serene influence of Indica strains, this candy provides a peaceful and laid-back sensation. Aura Indica is an excellent choice for unwinding after a tiring day or finding solace from feelings of stress and anxiety.
Embrace the tangy delight of Boost Edibles Gummy in Blue Raspberry flavour. Bursting with the refreshing taste of blueberries, this candy also packs the euphoria of THC, delivering a cheerful and uplifting experience for those seeking a burst of creativity and happiness.
Dive into the euphoric world of Euphoria Psychedelics – Cherry. The rich cherry flavour blends seamlessly with the euphoric effects of cannabis. Don't miss out on a delightful experience that uplifts your mood and enhances enjoyment.
For those seeking an intense experience, High Dose – EXTREME STRENGTH SOUR CHERRY FRUIT GUMMIES delivers a potent punch. With a tangy twist of sour cherry, these gummies pack a high dose of THC for a strong and long-lasting effect.
Indulge in the explosive taste of THC Bombs – APPLE. These cannabis-infused apple-flavoured delights offer a euphoric ride. It makes them an excellent choice for recreational users looking to add some zest to their day.
BlossomX brings a burst of flavour with their Assorted Gummy Bears. Each bear is infused with a precise dose of cannabis, making it easy to enjoy a mix of effects and flavours with every bite. Also, check out flavours:
Get Your Candy Edibles in Canada
Weed candy
 has proven to be a delightful and innovative method for experiencing the benefits of cannabis consumption. With various flavours and forms, it caters to recreational users seeking enjoyment and medical users seeking therapeutic benefits. For those looking for a flavourful cannabis adventure, Cannabis Den is the ultimate destination. We carry a wide selection of top-quality weed candies online. Enjoy quality products, reliable shipping, and discounts from us. Visit our online store today to find affordable prices of cannabis and browse through a selection of various products.
Back to top:
Weed Candy