A weed strain refers to a specific variety or subtype of the cannabis plant. Users can distinguish weed strains through their unique combination of characteristics, including appearance, aroma, taste, cannabinoid content (such as THC and CBD levels), and effects when consumed. These strains can vary widely in terms of their potency, flavour profile, and the kind of experience they offer to users.…
All About Weed Strains
Cannabis originated in Central Asia, but through centuries of conquest and exploration, it spread to nearly every corner of the world. In each region where it took root, cultivators selectively adapted the plant to meet their specific needs.
Over many generations, these localized adaptations resulted in unique variations within cannabis cultivars, which became known as landrace strains. Horticulturists in the Western world eventually transported many of these landrace strains and crossbred them with one another to explore the plant's potential. This hybridization process, involving the breeding of different males and females, gave rise to the multitude of named cannabis varieties we use today.
You may have also come across the terms "Indica," "Sativa," and "Hybrid" when discussing cannabis strains. These terms primarily describe the physical characteristics of the plants, which are of interest to growers.
Different Strains: Cannabis Sativa, Indica, and Hybrid
The difference between Sativa, Indica, and Hybrid cannabis strains lies in their genetic makeup, physical characteristics, and the effects they produce when consumed.
| | | | |
| --- | --- | --- | --- |
| ASPECT | SATIVA | INDICA | HYBRID |
| Genetics | Sativa strains are native to regions near the equator, where they have adapted to long periods of sunlight. They typically have narrow leaves and tall, slender plants. | Indica strains have broader leaves and shorter, bushier plants. They have developed to withstand harsher environmental conditions. | Hybrids strain are cannabis plants created by crossbreeding sativa and indica plants. Hybrids can have various combinations of sativa and indica genetics, leading to a wide spectrum of effects and physical appearances. |
| Characteristics | Sativa plants are known for their uplifting and energizing effects. Sativas can promote creativity, boost mood, and enhance focus. | Indica strains are celebrated for their calming and soothing properties. Indicas are associated with full-body relaxation, pain relief, and a "couch-lock" sensation. | Hybrid strains can exhibit a range of effects, depending on the specific genetics involved. Some hybrids lean more towards the sativa side, while others are Indica-dominant. The effects can vary from balanced to predominantly one type or the other. |
| Uses | People often turn to sativa strains for daytime use, as they can provide a cerebral, heady high that may stimulate creativity and social interactions. Cannabis enthusiasts can use sativas for brainstorming, art, or physical activities. | Indica strains are often chosen for nighttime use or for managing conditions such as anxiety, insomnia, or chronic pain. They can help users unwind, reduce muscle tension, and induce a sense of calm and tranquillity. | Hybrids offer a versatile range of effects, suitable for various situations and preferences. Users may choose hybrids to experience mental stimulation and physical relaxation, depending on the specific hybrid's dominant traits. |
Benefits
Smoking marijuana strains is an easy and rapid way to relieve the symptoms of diseases since it is clinically effective and gets the therapeutic, pain-relieving cannabinoids into your bloodstream more quickly than most other options.
For individuals seeking relief at home, smoking a joint using weed flower from dispensaries is a straightforward process. All that's needed are basic supplies like a lighter, a filter, and some rolling papers. This simplicity allows patients to self-administer their treatment conveniently and efficiently, providing relief without the need for complicated equipment or extensive preparation.
Smoking medicinal cannabis allows for precise control over dosage. Patients can easily gauge the effects after each inhale, allowing them to customize their consumption according to their individual needs. This ability to adjust the dosage on the go is particularly advantageous for those managing chronic conditions or experiencing fluctuating symptoms.
The immediate onset of effects is beneficial for patients dealing with sudden or acute symptoms. Instead of waiting for an extended period for relief to kick in, smoking offers rapid action, making it a preferred choice for conditions that require quick intervention.
Effects of Cannabis Flower
Consuming weed flower can lead to a range of effects, primarily influenced by the strain's cannabinoid and terpene profile, the individual's tolerance, and the method of consumption. The most well-known effect of consuming cannabis flower is the psychoactive "high" caused by THC. It can induce euphoria, relaxation, and altered perception.
CBD, another notable cannabinoid, presents potential therapeutic advantages like anxiety reduction and pain alleviation without causing intoxication.
Users may experience an enhanced sense of creativity, uplifted mood, and increased sociability with certain strains. Conversely, higher THC levels or sensitive individual responses can lead to temporary side effects like anxiety, paranoia, or increased heart rate. It is essential to consume weed flower responsibly, be aware of personal limits, and choose strains that align with specific preferences and desired effects.
Most Popular Weed Strains
People frequently inquire about which cannabis strains to use, and the response hinges on your desired mood, circumstances, and previous strain preferences.
There are popular strains that everyone, akin to must-see movies, legendary albums, or renowned artworks, should experience. How can one fully appreciate the cannabis culture without trying classics?
Original Glue
Original Glue, developed by GG strains, is an Indica-dominant hybrid with a remarkable track record of winning multiple awards. This strain is renowned for its elevated THC levels, typically ranging from 18 to 25 percent.
Original Glue provides a relaxing experience that appeals to both medical and recreational users. Despite its Indica dominance, it delivers a profound full-body relaxation. It produces a soothing body sensation and anticipates a mood-lifting, cerebral effect. It's better suited for a day off or as a way to unwind and conclude the day.
Wedding Cake
Wedding Cake, occasionally referred to as Pink Cookies, is a predominantly indica hybrid strain. This variety is created by combining Triangle Kush and Animal Mint genetics. It serves as a soothing remedy and an appetite enhancer and improves depression, fibromyalgia, multiple sclerosis (MS), and similar conditions. While it can have a sedating effect on patients, it is effective in easing nervousness and mitigating symptoms that trigger anxiety.
Trainwreck
Trainwreck earned its name and reputation within the cannabis community for very good reasons. This electrifying hybrid strain possesses mind-altering properties that hit you with the intensity of a speeding locomotive after just a few puffs.
Trainwreck delivers both a calming body high and a cerebral experience that sparks creative and imaginative thoughts. Patients often turn to Trainwreck for relief from pain, PTSD, and stress.
Mendo Breath
Mendo Breath is an exceedingly rare Indica-dominant hybrid strain that's a true standout. It originates from the fusion of the classic OG Kush Breath and the elusive Mendo Montage strains. It starts by enveloping your mind and body in a delightful, tingling euphoria. This tingling sensation rapidly transforms into a complete and encompassing buzz, which washes over you physically, inducing a profound couch lock and a heavy, sedating body high.
Your mind ascends into a state of dreamy euphoria, making it challenging to concentrate and sometimes inducing drowsiness. With THC levels starting at 19% to 20%, Mendo Breath delivers a potent cerebral high that does justice to its genetic heritage.
Gushers
Gushers is a moderately Indica-dominant hybrid strain, with a genetic composition of approximately 60% indica and 40% sativa. It is the result of a cross between the renowned Gelato #41 and Triangle Kush strains.
The onset of its high begins with a rush of tingling euphoria that initially targets the back of the head, providing subtly arousing sensations. This pleasurable feeling rapidly extends throughout the entire body that leaves you feeling quite stimulated and thoroughly relaxed from head to toe.
This relaxed state does not induce sleepiness; instead, it fosters a deep sense of ease and comfort with your surroundings. Gushers are often considered an excellent choice for alleviating chronic stress, anxiety, depression, and chronic pain.
Best Weed Flower Collection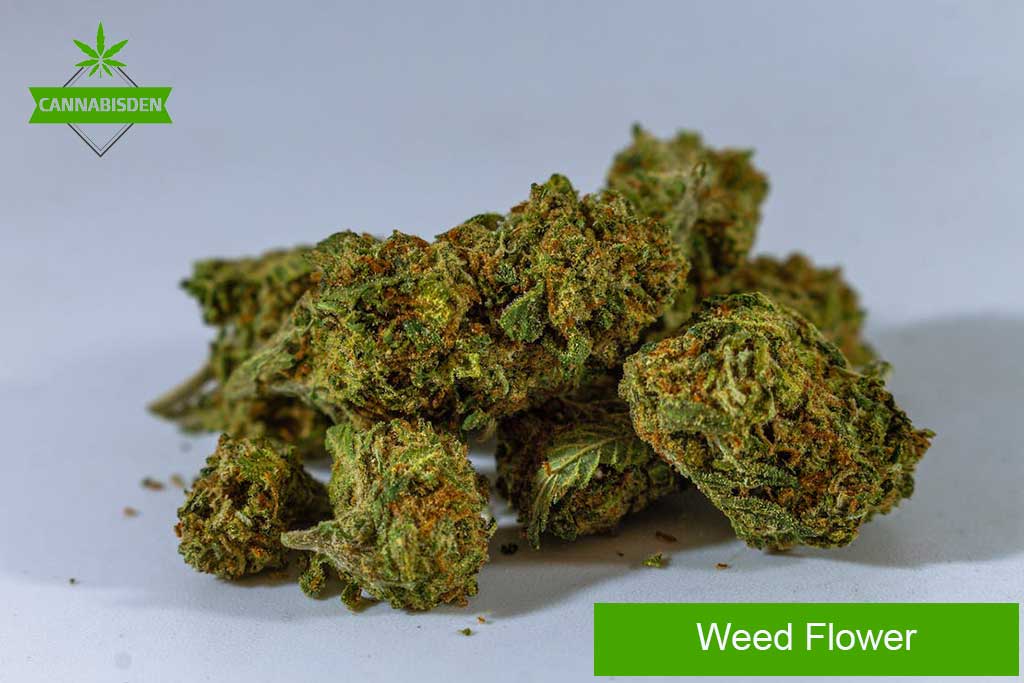 At Cannabis Den, we take pride in offering a diverse range of premium weed flower products for your commercial needs. Our top-shelf strains are carefully cultivated to deliver the best cannabis experience possible, buy craft weed canada today!
Types of Weed Flower
When it comes to premium flower, Cannabis Den offers a wide array of options to cater to your specific preferences and needs. Our selection goes beyond the average marijuana plant, and we've got something for everyone. Whether you're looking for smokable flower material, exploring the various effects of marijuana, or seeking versatility in your consumption, you won't want to miss what we have in store.
Our weed flower is carefully classified into three main categories:
Clustered Varieties: These types of cannabis produce flowers in tight clusters, known for their rich trichomes and potent effects. Think of it as the popcorn of the cannabis world.
Single Bud Options: For those who prefer a more concentrated experience, our single bud options are the perfect choice. They're like the premium petal of the cannabis world, providing an exceptional user experience.
Bushy and Woody Strains: If you want to opt for a more temperate experience, our bushy and woody strains offer a balanced blend of organic aromas found in the oils of flowering cannabis. They circulate a unique aroma that adds to the overall user experience.
Whether you're rolling a joint or packing a blunt, our premium flower refers to the highest quality weed flower material available. Explore the versatility of our offerings, and discover the organic aromas found in the oils that make each strain unique.
At Cannabis Den, we're dedicated to providing you with the best plant material, ensuring your satisfaction and enjoyment. Stay tuned for our mailing list updates and promotions, exclusively available in the U.S.
Why Choose Our Weed Flower?
When you choose our premium weed flower, you can expect:
Consistent quality and THC percentage
Unique aromas and organic scents
Easy consumption methods, including joints, blunts, and more
Commercial-grade cannabis products and services
Our Cannabis Flowering Process
| Stage | Description |
| --- | --- |
| Bloom | When our flowering plants produce beautiful and potent flowers. |
| Harvest | We carefully trim and harvest our cannabis buds. |
| Trim | We ensure that every bud meets our high standards before packaging. |
Smoking Weed and More
Smoking weed is one of the most common and popular ways to consume cannabis. But we offer more than just smoking options. Explore our versatile range of products, including tinctures, oils, and even edibles.
Privacy and Legalization of Cannabis Products
We respect your privacy. Please review our Privacy Policy and Terms of Use for more information on how we handle your data. Amid the current push for legalization, we offer cannabis products that are both compliant with the law and of the highest quality to meet your commercial requirements.
Contact Us
If you have any questions about our products, feel free to contact us.
Disclaimer: All information provided for informational purposes only and should not be construed as medical advice.
Experience the Best Marijuana Flower
When you choose Cannabis Den, you're opting for top-shelf, premium weed flower that delivers a pungent, earthy aroma and a consistent source of THC. Explore our collection today and elevate your commercial cannabis experience!
By choosing our products, you also agree to receive occasional email communications about our offers and updates.
We look forward to serving your commercial cannabis needs!
Cannabis Den Weed Dispensary
Cannabis Den is an online weed dispensary that sells high-quality, handcrafted marijuana at the best prices on the market. Potential buyers may also enjoy a list of the most popular marijuana strains and other high-quality cannabis flowers to experience the advantages of mental and physical euphoria in various forms. There are extracts, CBD oils, and edibles. Customers will never run out of weed strains or potential impacts to try because of the wide variety.
As part of our commitment to giving our clients the finest service possible, we also provide the most cost-effective goods likely through sales, promotions, and other special offers so they can enjoy the shopping process.
We ensure that all our items are carefully packaged to guarantee freshness and delivered straight to your front door. Providing excellence in all areas of our business is our objective.