Gushers Strain – AAA is a high-THC, low-CBD strain with potent, psychoactive properties that might appear enervating before becoming sedating. It came in flower or extract form and earned its name for its vibrant fruit flavour. It is grown by amateur and professional growers alike indoors, outdoors, and in greenhouses.
Every hit of the strain tastes like a combination of sour tropical fruits and rich, creamy cookies. The smell has the same profile, but it also has a hint of herbs and a bit of grape spice.
Benefits
Gushers are said to be great for treating chronic stress or anxiety, depression, and pain because of these effects and their high average THC level of 15 to 22 percent. This bud has long olive-green nugs with bright green leaves, a lot of thin amber hairs, and a coating of tiny amber crystal trichomes.
The product is consumed for fun, health, and symptom management for pain, nausea, and sleeplessness.
Effects
The high from Gushers isn't quite as bright as the taste, making you feel very relaxed. It's best for lazy nights at home with friends watching Netflix. The high starts with a rush of tingly euphoria that makes the back of the head tingle in a mildly exciting way. This quickly spreads to the rest of your body, making you feel excited and relaxed. In this state, you won't feel sleepy but rather entirely at ease with whatever is happening around you.
Facts
Gushers is a classic Gelato #41 X Triangle Kush hybrid strain with a 60% indica/40% sativa ratio and slightly indica dominant. The taste profile of this strain has a blend of tart tropical fruits and rich, creamy biscuits in every puff. The scent has the same character, but it also has hints of peppery grape and a tinge of herbs.
THC: 15% – 22%
Discovering Gushers Strain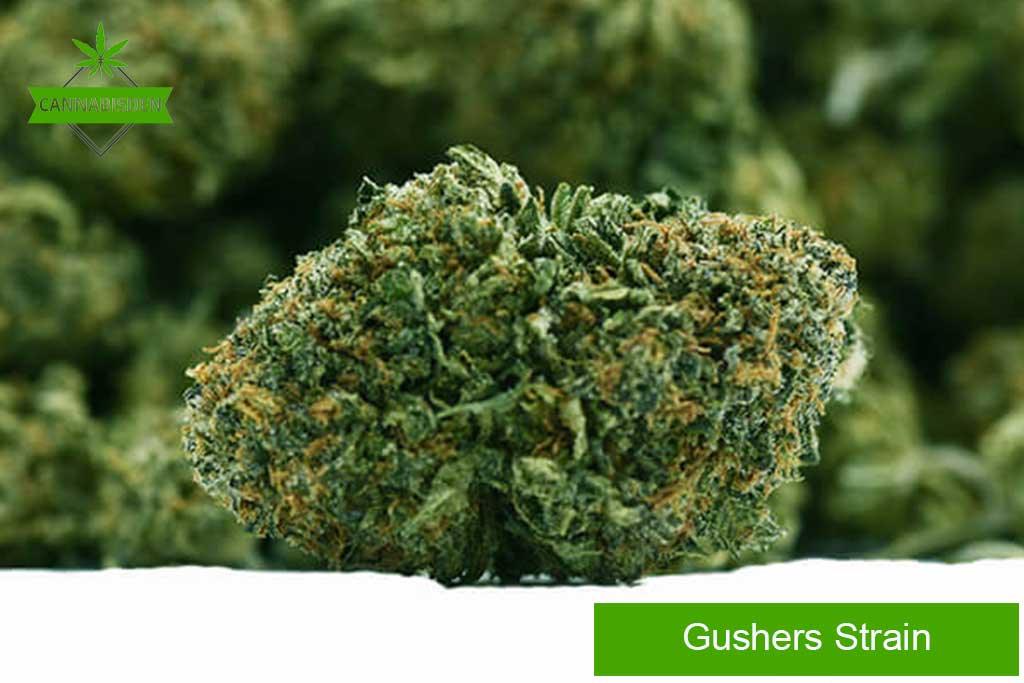 Gushers strain, a renowned indica-dominant hybrid, has taken the cannabis market by storm. In this comprehensive guide, we delve into the essence of Gushers, its origins, and its commercial appeal.
Characteristics of White Gushers Marijuana
When you examine Gushers, you'll notice its cured nuggets tend to be long, boasting a bright green hue scattered throughout. These nuggets are adorned with thin, winding amber pistils, creating an alluring visual experience.
Gushers: Popular for its sweet and fruity aroma.
Strain: An indica-dominant hybrid cannabis strain bred from fam genetics of Gelato 41 and Triangle Kush.
THC Potency: Known for its high THC potency, perfect for experienced consumers.
Grower Information
Curious about growing Gushers? Here's what you need to know:
Hybrid Strain: Fruit Gushers or white gushers is a hybrid strain, offering the best of both indica and sativa worlds.
Grower Insights: Learn from seasoned growers about cultivating this strain.
Terpene Profile: Explore the terpenes that contribute to its unique aroma.
Gushers Cannabis Strain effects and Reviews
Euphoric: Gushers induces a euphoric high that leaves users feeling totally at ease.
Body High: It relaxes muscles and allows the mind to wander freely.
Potent Relief: Users report that its great for relieving their anxiety and depression.
Cannabis Strain Reviews
See what others have to say:
Similar Effects: Users liken its effects to experiencing the 'munchies.'
Commercial Appeal: Gushers' cured nuggets are long and olive green, with patches of bright green scattered throughout along with thin winding amber.
Unique Aroma: named due to its scent, produces a sweet and sour tropical kick.
Table: Gushers Weed Strain Information Overview
| Attribute | Details |
| --- | --- |
| Name | Gushers Strain |
| Lineage | Gelato x Triangle Kush |
| Aroma | Sweet and fruity |
| THC Potency | High (20%+) |
| Growth Type | Hybrid, Indica-dominant |
| Terpene Profile | Fruity, earthy, and delicious |
| Effects | Euphoric, relaxing, great for pain and anxiety |
| Nugget Appearance | Long, olive green with bright green patches |
Gushers strain is your gateway to a delightful, commercial cannabis experience. Whether you're a seasoned connoisseur or a newbie, this hybrid strain offers something special for all cannabis enthusiasts. Be sure to check our selection for the best Gushers marijuana strain ready for harvest.
For commercial purposes, Gushers is a top choice, thanks to its high potency and unique terpene profile. Explore this delicious  indica-dominant hybrid strain and discover why it's making waves in the cannabis industry.
Frequently Asked Questions
What do Gushers look like?
This bud contains lengthy olive green nugs with brilliant green leaves, a thick layer of tiny golden crystal trichomes, and a bunch of thin golden bristles.
What is the Gushers strain used for?
Gushers hybrid strains are excellent for reducing tension and depression since they help calm their racing minds. Others have also used the strain to relax their muscles and let their minds wander on idle days.
Back to top: Gushers strain